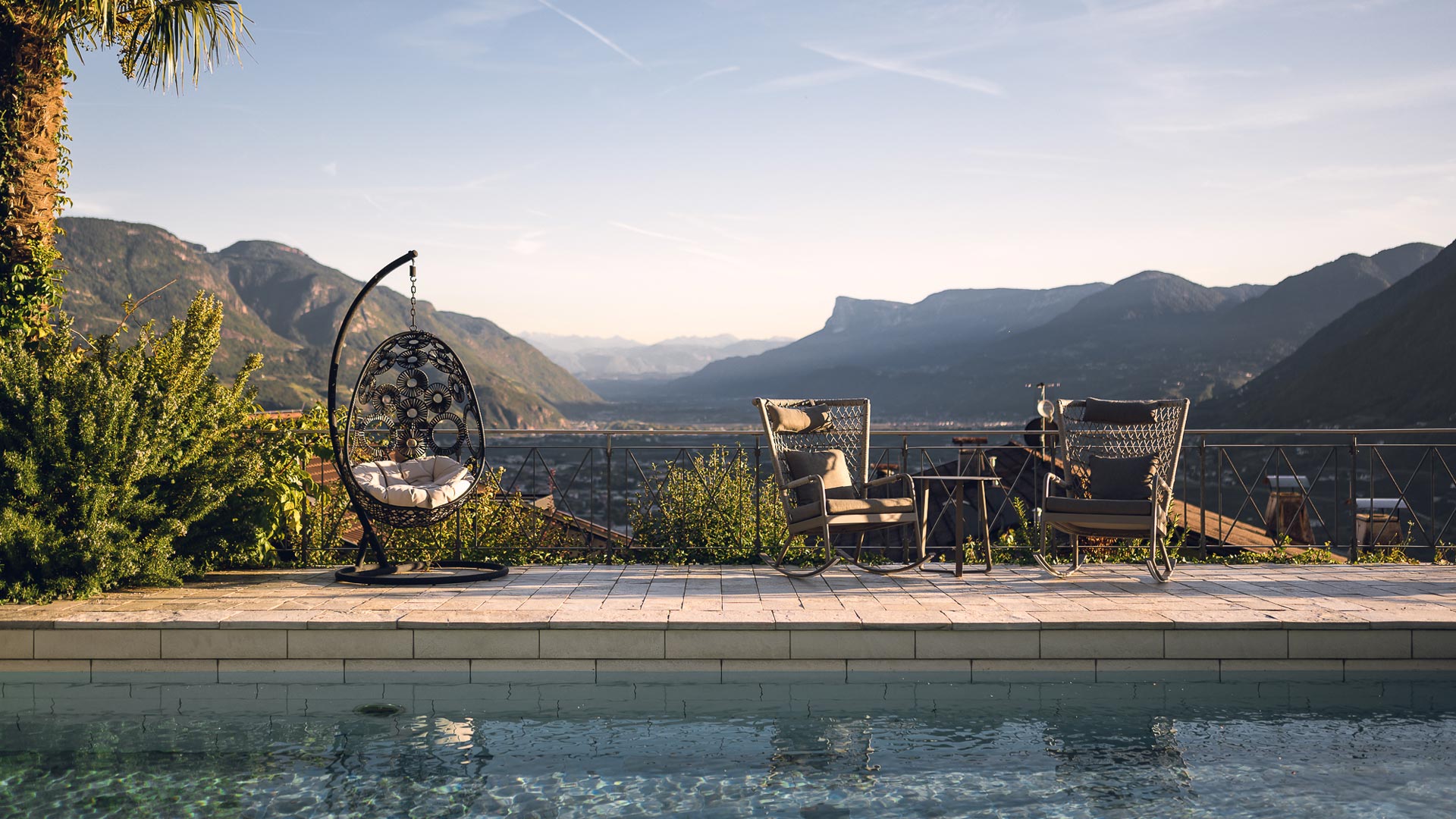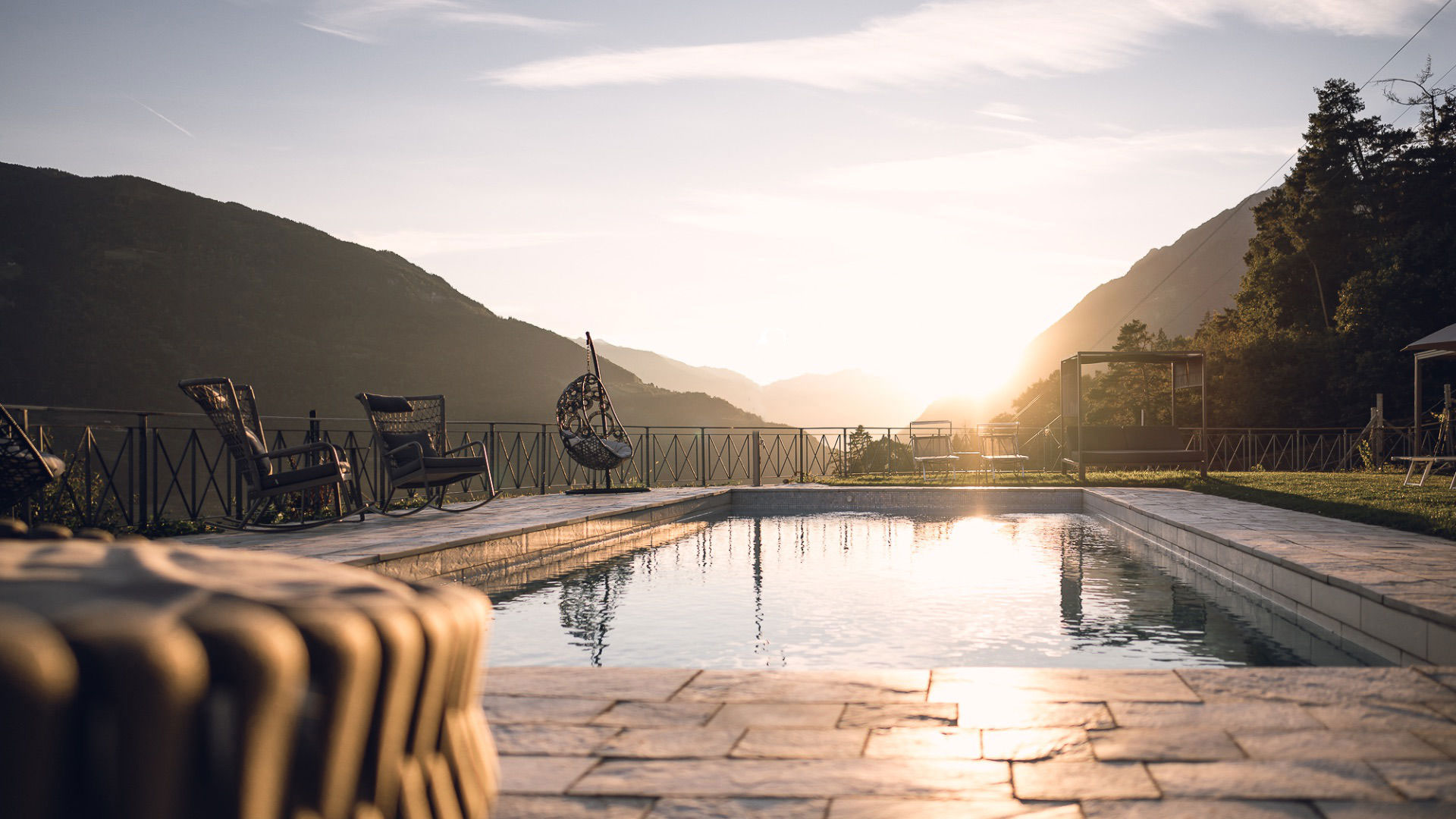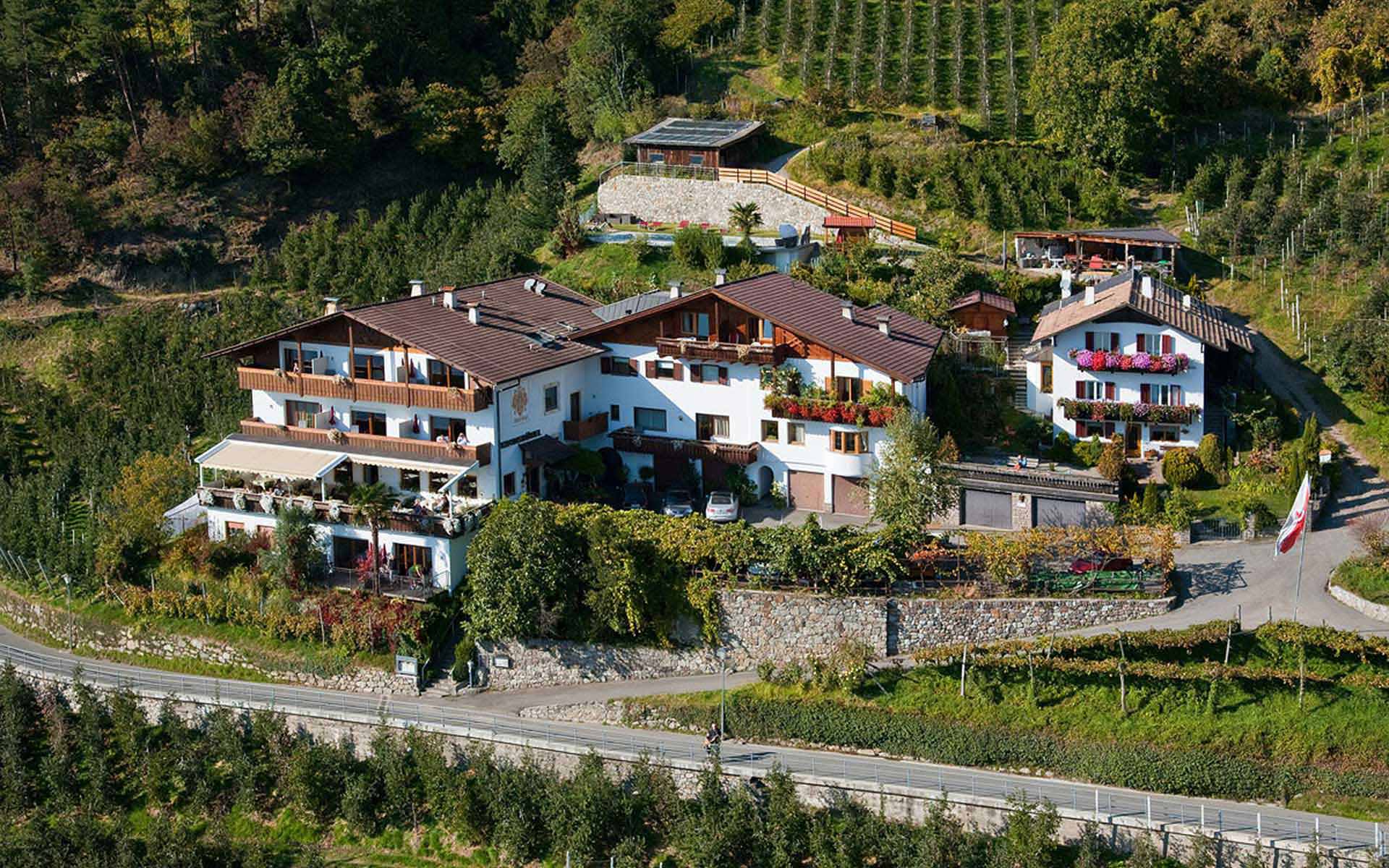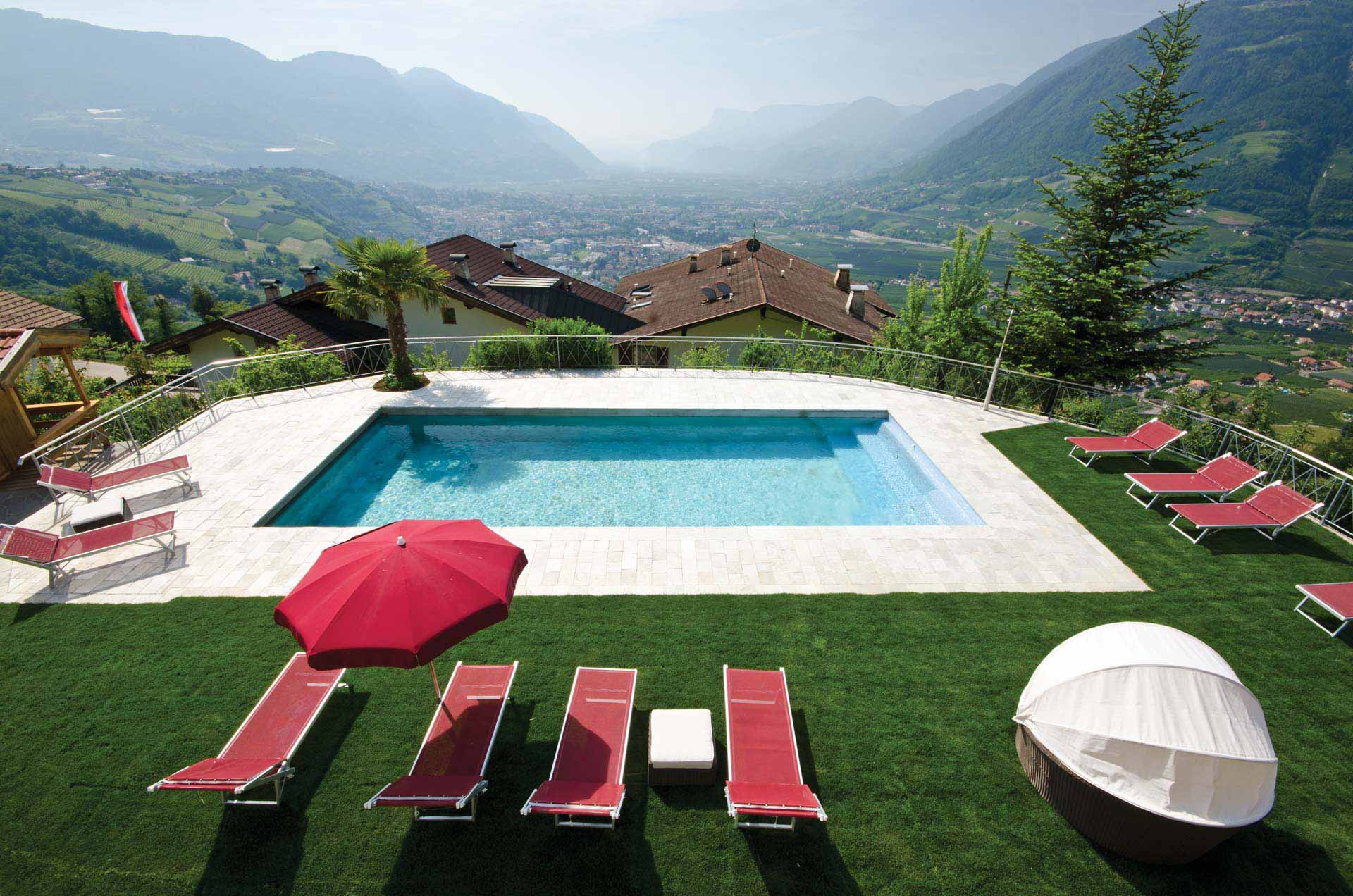 Hotel Kronsbühel - three-star superior hotel in Tirolo
For a holiday with breathtaking view
Surrounded by orchards, vineyards and high mountains, the picturesque Adige Valley is right on our doorstep boasting a variety of activities and places of interest waiting to be discovered by you. Situated above the town of Merano, the spectacular panoramic view from St Peter is not the only highlight we have to offer.
As well as the stunning views from our terrace and the breathtaking scenery, you can be guaranteed a warm welcome and a comfortable stay in our family-run three-star superior hotel. Explore Tirolo and the Merano area either on the many beautiful walking and hiking trails, on a mountain bike or even on an electric bike! Enjoy the peace and natural beauty as well as our culinary delights and fine wines. Celebrate your passion for wine here with us!
We look forward to your visit The Schöpf family and the Kronsbühel team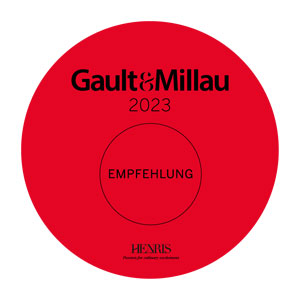 Panoramic view from our hotel
Overlooking a dreamlike landscape
Let you gaze wander over the countryside, breath in fresh air, get some sun and just take time out… This is a perfect holiday. A holiday in our Hotel Kronsbühel in Burgraviato. The sunny resort Tirolo surprises you with an incomparably beautiful view: of the famous spa town Merano, the wide valley floor and the splendid South Tyrolean mountains – in short: of all the special characteristics which distinguish our region from others.
During your holiday in our Hotel Kronsbühel, the magnificent panoramic view accompanies you the whole day through: whether you are having breakfast on the terrace, you are relaxing in your room, swimming in our pool or hiking and cycling around Tirolo. Enjoy it to the full – but do not forget all the other highlights and pleasures offered by the varied holiday region of Merano.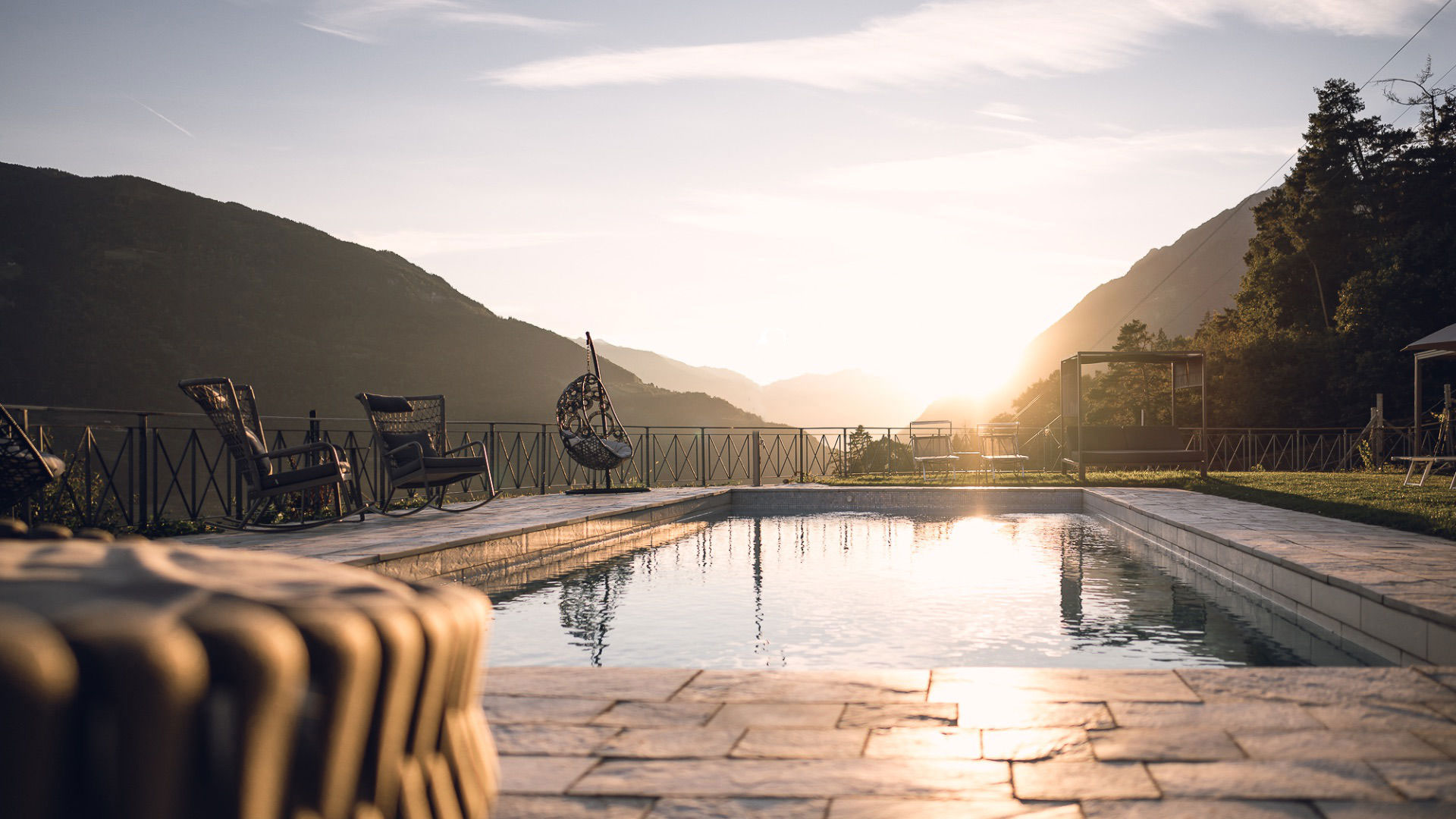 Our Hotel Kronsbühel is reachable from Bolzano or Resia, motorway exit Merano Center (district Quarazze) – along Via Laurin and Thurnstein Castle, not via Tirolo! If you are traveling over Passo di Monte Giovo, you should also take the road through the district Quarazze and do not go through Tirolo. If you have a navigation system, please enter "Merano – Via Laurin".
To top