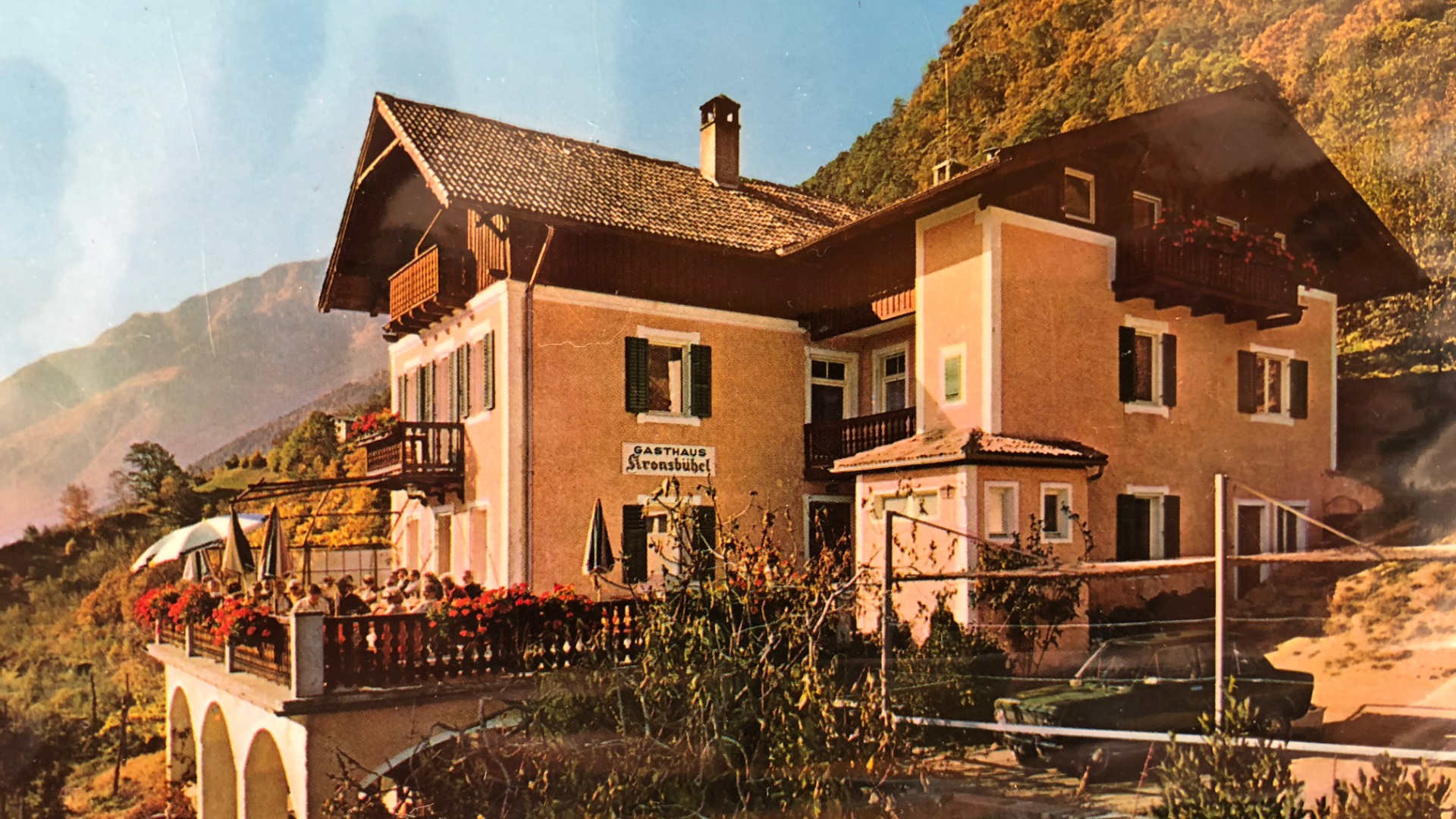 Chran-Aiz is the historic meaning for Kronsbichel and eponym for our very own Kronsbühel. At that time the hillside, which is known today as St. Peter, bore the same name. It suggests that this area was already settled back in prehistoric times. Just like the area where it is situated, our hotel also looks back on a long history:
1387
The hillside is documented for the first time as Chranspühel and later recorded under the name Kronsbichel.
1883
The Kronsbichel art nouveau villa is constructed by a local building contractor with the view to attracting spa guests from Merano to its café and restaurant complete with piano room. However, the journey up by horse and carriage was bumpy and dusty. As a result the establishment was not successful and frequently changed ownership.
1918
Jakob Schöpf (born 1884) acquires the Kronsbichl restaurant and creates a popular tavern with even more popular home-grown wine and flair to entertain his guests.
1953
The first guests from Germany and Austria arrive and bed and breakfast begins.
1961
Josef and Barbara Schöpf acquire the licence for the café & restaurant and proceed to successfully renovate the building. Everything is modernised - bedrooms with balconies, kitchen, terrace and swimming pool. The café & restaurant serving lunch, cakes, afternoon snacks and dinner prove very popular with guests.
1977
A mere 16 years later the building becomes too small and is almost completely demolished and rebuilt.
2000
The couple's son, Peter Schöpf, together with his wife Manuela, take over Hof Pichele and Restaurant Kronsbühel.
2009
It is once again time for reconstruction and renovation: rooms and spa area are redesigned and extended and from now on always tailored to guests' specific needs.
2019
The Kronsbühel becomes a Vinum Hotel. Host und sommelier, Peter Schöpf, offers his guests special wine highlights such as tastings and walks through his own vineyard.
Our Hotel Kronsbühel is reachable from Bolzano or Resia, motorway exit Merano Center (district Quarazze) – along Via Laurin and Thurnstein Castle, not via Tirolo! If you are traveling over Passo di Monte Giovo, you should also take the road through the district Quarazze and do not go through Tirolo. If you have a navigation system, please enter "Merano – Via Laurin".
To top